Best Dual Lens Dash Cam – Reviews 2016 – 2017
| | | | | | |
| --- | --- | --- | --- | --- | --- |
| | Vantrue | Dual Video - HD footage - Night vision - Parking Modes - Loop recording | High End | | BUY NOW! |
| | Nextbase | Twin cameras - HD recording - LED screen - GPS - Loop Recording | High End | | BUY NOW! |
| | Toguard | HD recording - Big LED screen - G Sensor | Low End | | BUY NOW! |
Best Dual Lens Dash Cams
For years, Dash boards and cameras haven't exactly made the perfect couple. Cameras slip and slide and almost never stay in place to capture the perfect shots when driving. And it's irresistible to capture stunning videos and pictures of the journey as you travel, but it can't be done. However, now it can be done using a Dash Cam, a high quality camera that fits perfectly on your dashboard to capture your surroundings and provide perfect reassurance that it will stay there! This list features the top three Dash Cams on the market today.
VantrueN2 Dual Dash Cam Review- Our Number 1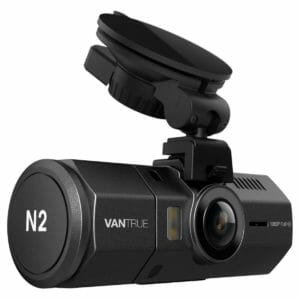 This high tech device from Vantrue exceeds expectations with its multi-functional body and sleek, compact style. It will not only do the job, but will look good doing it. Let's look closer at some of the products details
This product has Dual Video Inputs. The front video captures Full HD footage with a 170 degree wide angle and the Back camera up to 1280x720p quality and 140 degree angle. Capturing stunning effortless shots as you drive!
This product has superb night vision options and a unique Dash cam HDR or High Dynamic Range meaning you will create the smoothest of videos, regardless of the terrain you are driving on
It also has Parking Modes and Time Lapse, giving you the ultimate experience and variety of options when capturing the perfect film. Triggered by Time Lapse, the camera will keep taking photos at the set time interval and then automatically edit them together to form a video clip. (Parking Mode only works for Front Camera)
Loop recording turns on automatically, recording once the engine starts to capture more of your journey. Seamless Loop technology means enables the camera to overwrite the oldest footage with the newest upon filling your card to its capacity.
An optional GPS built in, means you can check your vehicles location, speed or even route on Google Maps.
The Vantrue N2 Dual Dash Cam (lowest price here!) is a brilliant, high tech camera for your car. It's simultaneously built in with some fantastic features whilst remaining simple to use. The Dual camera option seperates this product from others, making it unique.
Summary
Features : Dual Video – HD footage – Night vision – Parking Modes – Loop recording
Pricing : High End
Nextbase Front and Back Dash Cam Review – Number 2
This Nextbase Dash cam is sleek and compact whilst maintaining excellent quality and remaining accessible to all cars. This products excellent design means it will stay in perfect condition and produce crystal clear footage. Let's look at its features
This product has Rotating twin cameras that can view forwards and backwards at the same time. The forward facing camera has an 140 degree wide angle lens with 720p HD recording. The rear facing camera has a 50 Metre zoom lens, able to record through your windscreen and capture behind your car
As well as a brilliant camera, this product also has a Bright and clear 2.0 inch LED screen to easily view what you've captured. This may also provide peace of mind in any accidents as it gives immediate footage to show Insurance companies or other drivers in the result of a crash
It has built in GPS and G sensor to record location, speed and force data. It also uses Multi- Element Sharp lenses to capture the most stunningly clear images
There are Loop recording features to prevent recording from stopping when the SD card becomes full
The Nextbase Front and Back Dash cam is technologically proficient and easy to use. The perfect Dash Cam for a first time user. It captures excellent quality images, has many extra features to make sure you get the footage you want and remains simple to install and use.
Summary
Features : Twin cameras – HD recording – LED screen – GPS – Loop Recording
Pricing : High End
Toguard Dual Lens Dash Cam Review – Number 3
This Dash Cam from Toguard maintains the company's reputation for producing good looking, long lasting and efficient products. This sleek and attractive Cam is easy to use and reliable. Let's take a look at its features
This product maintains full 1920*1080p HD recording, creating smooth and excellent quality footage. With 4 LED lights for high quality images, even at night
This product has a big, 4 inch screen with a 2.0 large aperture lens to help you watch the video recording when driving
It has a G-Sensor enabled recording system which occurs as soon as any sudden braking, impact or acceleration occurs. The WDR functions eliminate any glare or dimming to your footage.
This Dash Cam comes with 130 degree wide angle abilities
The Toguard Dual Lens Dash Cam provides comfort as you drive, in the knowledge that you are capturing stunning images and all you have to focus on is the road. The cheapest of the three, you may be put off, however the quality remains excellent. With less complex features you are able to utilize its select functions.
Summary
Features : HD recording – Big LED screen – G Sensor
Pricing : Low End
Verdict
First place in this list has to go to Nextbase for creating an easy to use, well designed, multi featured and practical product that will most definetlyturn heads. Its compact, sleek but still maintains its excellent quality. It produces excellent definition images and will not let you down.