Best Rear View Mirror Cameras In 2017 – 2018
| | | | | | |
| --- | --- | --- | --- | --- | --- |
| | Nextbase | Universally compatible – 1080p – Wifi – GPS – Loop Recording – G – Sensor | High End | | BUY NOW! |
| | LESHP | 4.3″ screen – 1080p – GPS – Loop Recording – 120 degree angle | Affordable | | BUY NOW! |
| | Auto-Vox | 4.5″ screen – GPS – Loop Recording – Reversing Camera | Mid range | | BUY NOW! |
Rear View Dashboard Camera Review 2017 – 2018
Having a dashboard camera is one of the best ways you can protect yourself from being on the harsh end of a dispute in the event of a collision.
When the blame is spread in every direction and there are no witnesses around, then it is, literally your word against that of the other party. If it goes to court… lets just say then it becomes a very expensive gamble.
There are no two ways about it, having a dash cam is almost essential. I have had some messages from readers saying, while they want the security of the camera watching over them like a guardian angel, they dont like the fact that it takes up room on the wind screen.
I mean, you will have your navigation device and then also your dashcam, this together with the rear view mirror means three objects in total to essentially "block" your view.
This is why I have decided to review three of the best rear view mirror dashboard cameras currently in Amazon (see the best priced rear view dash cam here).
These cameras are basically a rear view mirror, with the one very distinct modification; they can have a screen built in to the mirror and a camera lens facing outside.
The cameras are very clever and are ideal for you if you are looking to clean up the clutter around your windshield.
Top 3 Best Rearview Mirror Cameras Of 2017
Nextbase Rear View Mirror – Our Number 1
When it comes to in car surveillance, Nextbase (shop now!) are amongst the top in the industry. They are known for their premium quality as well as ease of use. Their mirror cam is no different. Among one of the best that we have tested. Here are some of the features;
This camera is able to be attached to any sized rear view mirror.
Records video in full HD at 1080p resolution with a nice and crisp 30 frames per second – making the video footage extremely clean and ideal to showcase the smallest part of any evidence
Wi-Fi connection making it super simple to review the video right away on any mobile device, such as a tablet or smart phone. App available for Android as well as iOS.
GPS data logger which records your speed as well as geographical location. Which is immensely useful when you come back to review your journey
4″ hidden screen on the camera, while it is not apparent, it is still very bright
Wide dynamic range image processing which makes for a super clear video capture. Whether it is extremely bright or dark as the night out there, the video clarity on The Nextbase will not be compromised
Loop recording feature so you don't need to worry about deleting old files to make space for new recordings
G-sensor to protect the footage in case of a collision
The camera comes fully equipped with everything you would need to get started right out of the box including power/data cables, suction cups mounts and instructions.
One of the best on the market today. For a completely hidden security feature to your vehicle, look no further than The Nextbase.
LESHP Review – Number 2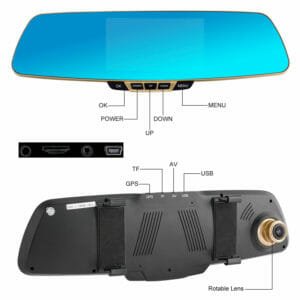 Our second products comes from another known name in the industry. The dual lens mirror camera comes packed with a ton of features and everything you need to keep you secure on the road. Here are some of the features that brought the camera to our number 2 spot;
4.3″ HD IPS LCD screen boasts incredibly clear image and video playback. Extremely bright – which can be adjusted easily through the control panel
Loop recording, G-sensor, LED Display, Microphone, Motion detection, Night vision – All built in features
1080p resolution on the front recording and the rear recording at 720p.
120 degree wide angle front lens
A very good product at an modest price point. This is a great option if you want all of these features but are on a budget. Ideal choice for multiple cars.
Auto-Vox Review – Number 3
Another known name in the dash cam space, the Auto Vox rear view camera is slick to look at and comes with a list of handy features;
Touch screen operation allows you to easily navigate and control your settings right there on the screen. The interface is intuitive and very user friendly
The 4.5″ LCD screen displays images and video very clearly. Bright and sharp, with extremely smooth video quality.
Parking/reverse camera – another great feature which is enabled when you put the car into reverse
Very easy to install
Some great features here with the Auto Vox. While not rated quite as high as The LESHP or Nextbase, The Auto Vox is a very good product and a must if you require assistance when reversing.
Conclusion
All 3 of these cameras are very good. They all come equipped with a host of features, bells and whistles. If you are looking for the best of the best, then go for The Nextbase. It is a premium product that is extremely reliable. Very easy to use and above all, it is manufactured by a reputable company.
Quick Links