Anker Roav Dash Cam C1 Pro – Does It Deliver?
Anker Roav is relatively new in comparison to a lot of the other dash cam brands out there, but after a little research we found that they claim to be dedicated to providing high quality dash cams to improve and create safer driving for everybody.
Currently, they have a range of dash cams on the market, varying in price and the features that they have to offer. The model that we have chosen to review today is the Anker Roav C1 Pro Dash Cam. Having heard positive things about this model, we wanted to try it for ourselves. Check out our review below to see if it lived up to expectations.
Features:
2K Resolution
Built In GPS
WiFi Enabled
4 Lane Wide Angle Lens
G Sensor
WDR
Loop Recording
2 Port Charger
32GB Micro SD Card
Extreme Temperature Resistance
Roav App
Pros:
Incredible recording quality thanks to 2k resolution.
4 lane lens so nothing is missed.
Motion activated recording.
Cons:
The screen is a little small at only 2.4".
The impact detection is a little sensitive but it is adjustable.

The Design
Given that the cost of this dash cam is quite low, one thing that we were a little concerned about is whether or not the device would feel cheap and flimsy. Thankfully, this really isn't the case. It's very obvious that it has been built to be solid and to feel far more expensive than it is.
The mounting process was so simple that anyone could do it. Fitting neatly behind the rear view mirror, there is no risk of an obstructed view and the lens angle is really easy to adjust so that you can get the perfect angle for different lighting levels, leading to a much clearer image.
The user interface is nicely set up so that each different setting can be accessed with no hassle. The only issue that we had is that the screen is slightly on the small side which can make accessing the features a little fiddly. However, it is not a huge problem and doesn't affect the usability of the dash cam itself.
The Recording Quality
We have to say that the quality of the footage that we captured is amazing, just what you would expect with a resolution of 2K. The footage quality is even clearer when it is played back on a laptop or PC, you can really feel the benefit of having such a high resolution.
One thing that is worth noting is that in order to make sure that you get the best quality footage, you really do need to make sure that you get the angle right when mounting the dash cam. If it is too high or too low then the quality will be compromised, so it does take a little time to make sure that you have it set just right for the lighting condition that you are travelling in.

The Extra Features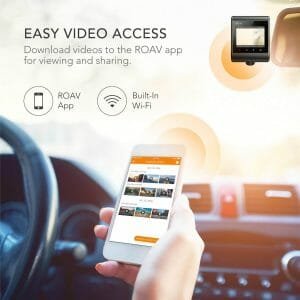 For an affordable budget model, this dash cam comes with some impressive extra features. The first feature that we liked was the parking monitor. We found this feature really effective and it certainly provides a little extra reassurance that your vehicle is covered even overnight when it is parked on the road.
One thing that is worth noting is that the G sensor that is built in to the Anker Roav dash cam is a little on the sensitive side. We found that it started the automatic recording sometimes when it wasn't necessary. However, this issue can be rectified by simply adjusting the level of sensitivity. If you drive on particularly bumpy roads then this is definitely something that you will want to do.
Finally, there is the Roav app that is free with this dash cam. This app allows you to edit your footage as well as share it will friends, social media and your insurance provider if necessary. This is a great extra feature to have.
The Conclusion
For such a low end dash cam, we have to admit that we really weren't expecting all that much in terms of the performance. However, we were totally blown away by some of the features. The 2K resolution alone makes the dash cam worth the money that you can expect to pay for it.
When you combine this with all of the extra features that you get with this particular dash cam, it really does make a worthwhile investment. It is easy to install, easy to use, and hugely effective in terms of performance so it is certainly worth taking a look at if you are considering buying yourself a dash cam.