Garmin Dash Cam 45 – A Reliable Device with Lots of Extras
In terms of automotive tech brands,
Garmin is up there with some of the most well-known and most popular. They produce a range of different consumer electronics, including a line of dash cams. Considering how reputable Garmin is as a brand in the UK, we expected very good things from the Garmin Dash Cam 45.
We decided to put this dash cam to the test and examine its design and features in the hopes that we can give you a concise review. We hope that by taking a look through our experience with the Garmin Dash Cam 45 you will be able to get a much clearer picture of what it has to offer.
Features:
1080P Full HD Recording
1MP Camera
2" LCD Screen
Incident Detection
Lane Departure Warning
Forward Collision Warning
Built In WiFi
GPS Enabled
Magnetic Mount
Free Garmin VIRB App
Pros:
Packed with extra features.
Ability to condense and share videos of your journey.
Very sleek design.
Cons:
The screen is a little small at only 2".
The dash cam gets a little hot with extended use.

The Design
The Garmin Dash Cam 45 doesn't disappoint on the design front. It is sleek and very stylish, although a little bulky in certain areas. Despite the slight bulkiness, it feels very solid in the hand; it is obvious that it has been designed and put together really well. You can tell that it has not been made with cheap components; it has been made to feel of a high quality.
When it comes to the user interface, we were really pleased with how easy to use it is. There are no over complicated menus; the interface is as basic as it needs to be and the controls themselves are very simple to use. Accessing the different settings was no problem at all and we could navigate the menu with no problems.
Although the user interface is simple to use, the only complaint that we have is regarding the screen size. At only 2 inches, it is a little difficult to see. If you don't have perfect eyesight then you might find it a little too difficult to see. However, when playing footage back on a laptop or PC there are no problems.
One thing that we really liked about the design of the Garmin Dash Cam 45 is the mount that comes with it. The mount itself is easy to install, but the main thing that we like is that it is magnetic. This makes using and removing the dash cam after each journey really easy.

The Recording Quality
The recording quality is spot on, as you would expect with a resolution of 1080P. When playing back the footage there was absolutely no issue with seeing what we had recorded, both at night and during the day. There were no grainy images to contend with, and no blurred footage. Fine details, including number plates, were very clearly visible which is great.
The built in microphone is great. Out of all of the features, this is the one that we expected to be less than perfect, but we were surprised by just how much sound the dash cam actually picked up, both up close and from a distance.
One of the things that we like about this dash cam is that along with the recording quality of 1080P, it also has a 2.1MP camera built in to take still images. This is perfect for capturing number plates. We were a little concerned that the resolution would be a little low to capture clear images but we didn't run into any problems.
The Extra Features
What really impressed us with this dash cam from Garmin is how many extra features are packed into the specs. The first feature that we liked was the Lane Departure Warning System. This system will alert the driver the second they start to stray from their lane. We found this really useful when driving on dual carriageways and love that it is an extra safety feature that you wouldn't usually get with a dash cam.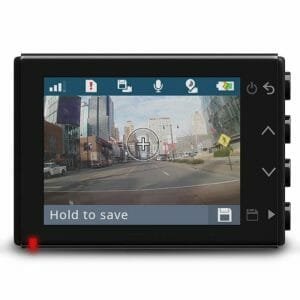 There is also a Forward Collision Warning System. This will alert you if you are traveling too closely to the car in front of you. Again, this added safety feature proved really useful and the alerts are very accurate. The fact that this dash cam could help to prevent accidents from happening in the first place is great.
Finally, we'd like to talk about the free Garmin VIRB app. With this app, you are able to condense hours of footage into a short clip of your journey. If you have been traveling this is great. The app also allows you the option to share your clips with your friends and family via social media.
The Conclusion
As we expected with a dash cam from Garmin, we were highly impressed with this dash cam. The basic features are highly effective, but what we really liked was the built in extra features that offer safety to the driver and other road users. Most dash cams don't have these kinds of features; they simply focus on recording footage so the option to make driving safer is fantastic.
There are only two complaints that we would have is about the screen size. If the screen was a little bigger, even if only by an inch, this dash cam would be perfect. The other thing that we noticed was that with extended use, the dash cam can get a little hot. However, overall, we were very impressed with Garmin's dash cam and would certainly recommend it.