Motorola Lifestyle Dash Cam – Does the Brand Deliver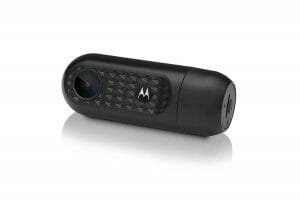 Motorola is one of the biggest names in technology and has been for many years now. Mainly known for their mobile devices, they have also now branched out into dash cam technology. They are very well-known for their high-end products that are built to last whilst remaining user friendly.
With this in mind, we were curious when we saw this Motorola Lifestyle Dash Cam. If you are looking for a dash cam for your vehicle, then you might be interested in reading our thorough, unbiased review where we will take a look at the different features that it has to offer. Read below to find out more.
Features:
720P HD Recording
140 Degree Wide Angle Lens
Adjustable Lens Angle
Interval Loop Recording
WiFi Enabled
Clip Mount
Suction Mount
Hubble Dash Cam App
Pros:
Adjustable collision detection sensitivity so you can increase or decrease it meaning that it doesn't activate too often.
Fairly good resolution considering it only records in 720P HD.
An affordable option that is still fairly high-end.
Cons:
The cables are quite long and difficult to keep tidy in the car.
Whilst the recording quality is quite good, the dash cam doesn't pick up sound very well.

The Design
The actual design of the Motorola Lifestyle Dash Cam is quite interesting. It is not the usual shape that you would see. Of course, coming from Motorola we wouldn't really expect something average. When holding the dash cam, we were a little concerned to find that it felt a little cheap and plastic. It would perhaps look and feel better in stainless steel or with some sort of metal shell.
The leads to the camera connect to the end of the left had side of the device and the camera is at the other end. The installation process for the dash cam was actually pretty straight forward; we didn't really run into any problems.
The only thing that we didn't really like was the cables. We found that in some vehicles, they were a little too long. The end result looked messy and
clumsy which is not something that you want. If the cable was a little shorter the overall design would be much better.
Controlling the camera itself is incredibly easy. There are no complicated menus to navigate and no settings to try and configure. However, there is the lack of a screen that may bother those who want to be able to playback footage on the screen.

The Recording Quality
Considering the Motorola Lifestyle Dash cam only records in 720P HD as opposed to the standard full 1080P Full HD that most models offer, we weren't really expecting all that much in terms of recording quality. However, we were pleasantly surprised. It had a few difficulties picking up some number plates but nothing major.
The only issue that we picked up with the recording quality was that it didn't pick up sounds very well. In some cases the sound was muffled but in others it was completely inaudible. This could cause problems when trying to capture road rage incidents, for example.
The Extra Features
There are a couple of extra features that we really like with this dash cam. First of all, there is the fact that the body itself can actually be rotated 360 degrees. This means that you are not only able to record the road in front of you, but you can also record in car. This is especially useful if you are trying to record journeys for YouTube.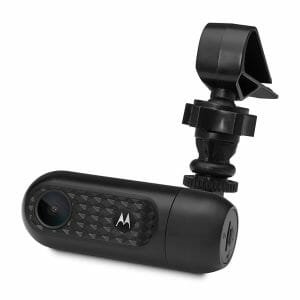 The other thing that we really liked was the two different types of mounts that come with the dash cam. There is the standard suction mount which was very easy to use, but there is also the clip mount which is great for attaching it behind the rear view mirror to make it extra discreet.
The Conclusion
Overall, this is a great option for those who want to spend a little less money. If you just want a basic dash cam that has been produced by a reputable brand, then it is a good choice.
However, if you want a dash cam that comes with a lot of extra features then this probably isn't going to be the right choice for you.  It would be a perfect choice for vloggers who want to document their journeys because of the rotating lens, so this is definitely something that you should consider.