Oldshark Dash Cam – Packed Full of Useful Features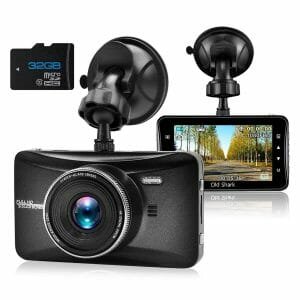 Oldshark may not necessarily be a well-known brand, but they actually have more than 17 years' experience in manufacturing innovative in car products. This brand claims that they are dedicated to improving the safety and reliability of every driver.
After taking a look through their range of dash cams, we picked this model to try it out so that we could give you a proper review of everything that it has to offer. Reviews are essential when it comes to buying devices like dash cams because they are so important to our safety. Read on to find out if Oldshark deliver with this one.
Features:
1080P Full HD Recording
6 Layers of Lenses
170 Degree Wide Angle Recording
Instant Playback
Motion Detection
Time Stamping
Emergency Locking
3" LCD Display
Pros:
Very high image quality.
Wide variety of features.
Lots of customisable options.
Good cable length.
Cons:
The buttons stick a little.
Motion detection doesn't seem to be very sensitive.

The Design
The metal shell that surrounds this Oldshark dash cam looks and feels great. You can really tell that there has been a lot of thought put into the design. It feels durable and like it has really been built to last. There is a sleek finish to the device and we were happy to note that it isn't too bulky. There is absolutely no obstruction when the camera is mounted.
The mounting of the dash cam itself could not have been simpler. The mount itself holds the dash cam well and it feels very stable, so there is no need to worry about it coming loose when travelling on a bumpy road. There were no issues in getting the angle right at all, and we were pleased with the length of the cable too. The interface of the device is very user friendly. Even the biggest technophobe is likely to be able to use it with little to no issues.
The LCD display is bright and clear and the icons and settings are laid out
so that they are easy to use without having to spend unnecessary time trying to figure it all out. The only complaint (which isn't really a complaint, more of an opinion), is that the screen itself could be a little bigger as it is a little on the small side at only 3 inches.
Although the screen is a little small, it doesn't detract from the effectiveness of the device itself. It is still easy to use and doesn't feel fiddly in the hand. All of the features are still very easy to access with minimal effort so it is suitable for everyone.
The Recording Quality
We were so impressed by the recording quality of the Oldshark dash cam. The images were so crisp and even clearer when the video files were played back on a laptop. Playback on the dash cam itself is surprisingly clear too. The image quality really is comparable to high end smart phones which is exactly what you need in a dash cam.
The built in microphone is surprisingly sensitive and picks up sound very well. There is no muffling at all and all noises were picked up successfully. The only issue that we encountered was that the image quality at night is a little on the grainy side. We suspect that the quality could be improved by adjusting the angle of the camera a little in different exposures.

The Extra Features
One thing that we really liked about this dash cam from Oldshark is that it is packed with extra features that are actually really helpful. The first one that we came across that seriously impressed us was the parking monitor function.
It is highly sensitive and starts recording the second movement or shock is detected outside of your vehicle when it is parked. This could prove vital for deterring and catching thieves.
Another thing that really impressed us was the automatic loop recording feature. This feature overwrites unnecessary video files so that you can save essential space on your memory card.
The Conclusion
For a fairly budget dash cam, this one from Oldshark is really impressive. It is very unobtrusive, built well and absolutely packed with extra features that are helpful rather than unnecessary. The image quality of this dash cam alone is one major reason to consider it.
It records both day and night time footage really well and provides a clear enough image to read number plates accurately. The parking monitor feature is very useful, especially for those who live in built up areas and park their vehicles on the road outside of their home during the evening.
Overall, this is a really impressive piece of kit. It would be ideal for those who want a dash cam for day to day use as it is simple to use and highly effective whilst remaining affordable.