The Vicovation VICO OPIA 2 Dashcam Review
If you're looking for a high quality dashcam that answers all of your surveillance needs – without costing a fortune, the VICO OPIA 2 by Vicovation is definitely one of the strongest options around. With an impressive range of features, the VICO OPIA 2 offers supreme versatility and a level of quality that's hard to beat.
Not sure if its right for you? Read this review to learn more about the VICO OPIA 2's range of features, as well as how the dashcam handles when in use.
Main Features
It might look humble on the outside, but this camera is a sophisticated piece of modern technology, packing plenty of features in its small and discrete frame. Here's a run down of what this piece of equipment has to offer:
The quality of video is fantastic for a camera this size, with 2560 x 1440 resolution giving you a finished footage of a crisp 1080p @ 60 FPS or at 1440p@30fps HDR! That's a recordable 2k Ultra-HD visual feed.
Likewise, it can record at 30 frames per second, ensuring you never miss any small details in the recording.
The camera itself is based on the Ambarella A12, featuring a 6G mega pixel lens.
This is also supported by 4 mega-pixel image sensors, ensuring great quality video, vibrant colours and a steady recording.
With a F 1.8 aperture offers incredibly fast shutter response, allowing for great control and split-second recording.
When it comes to recording, there are a range of options, including circular recording, emergency recording, seamless recording and engine-on auto recording. Each of these is useful under the right circumstances.
This also includes excellent night time recording, retaining the same high quality resolution.
A time lapse video mode is also available.
At just under 500 g, this device is small, light and causes no problems when in the car.
In terms of size, it's just 23.9 x 6.9 x 10.4cm, making for a discrete and subtle addition to your dashboard.
If you want connectivity, this camera comes with an SD card slot, USB slot, power port and an external GPS mouse port.
There's also a microphone and speaker, to ensure great audio as well.
The speaker is useful, as the device will issue audible cues to let you know when recordings have started and stopped.
The control scheme is quick and easy to use, featuring buttons design for quick access to emergency recording.
In addition to a charger, this kit also comes with a range of mounts to ensure the right fit on any dashboard.
As you can see that's a lot of features. The design of this camera has taken into account any sort of situation or scenario a driver might come across. There are modes to help cover the vehicle while parked, while driving and anything in between.
[amazon_link asins='B014EW49CO,B01N3SP41O,B00U701N72,B0147QA57K,B00GRYT5QI,B00U701N6I,B014Q2L6N2′ template='ProductCarousel' store='dashbcamrev-21′ marketplace='UK' link_id='b9bd8fc6-d0fd-11e6-982e-4b39526d982d']
Using The Dashcam
Straight away, this camera is quick and easy to use. From the moment you turn it on, the device is recording. This might seem like a simple feature but when you're driving, having to press as few buttons as possible is a huge benefit. Of course, this can be turned off if you don't want to record.
In terms of visual quality, the HDR ensures everything is crystal clear. This is High Dynamic Range imaging and, in short, the camera records at high, low and medium exposures, combining all three focal ranges into one video. This is exceptionally useful, as nothing is blurred or out of focus. Whether an incident happens up close or in the distance, the HDR feature gives you the best way to capture footage. This is also one of the reasons the camera's quality is so useful at night time.
There's also a GPS setting with the option of an overlay. Like all dashcams, this device records the date and time in real-time, allowing your videos to show exactly when something occurred. The GPS overlay, likewise, adds a new layer, helping to further demonstrate where you were in your recordings.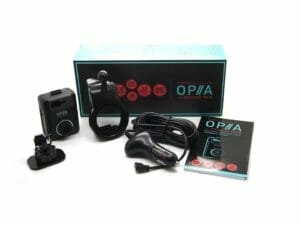 The emergency recording feature is one area with this device really shines. If you push this button – it's the orange one – the camera starts recording and doesn't override what it records either. If that's not enough, it also records the first 30 seconds before and after you finish emergency recording. Why is this vital? If you hit this button quick enough, you can record what other cameras would essentially 'miss'. This way, quick reflexes are enough to retroactively record whatever it is you encounter on the roads. The dashcam keeps these recordings in a separate folder and can store around up to 10 of these at a time.
Similarly, the mute button is also appreciated. If you're having a private conversation – whether its on a hands free device or with people in the car – the mute button is quick way to stop audio recording without interfering with the visual feed.
It's also worth noting that, rather than a standard lithium-ion battery, this device uses a super capacitor. This is much more resistant to heat, so it survives under windscreen glass on hot summer days, where other cameras might falter.
If that wasn't enough, it's also worth noting this camera comes with smart parking mode, which is turned on by default. This uses a G-sensor to capture any activity while your car is parked. If an object comes into contact with your vehicle while it is stationary, this will record and make a note of it for you. This information is highly useful when dealing with insurance claims, for instance. Just in case the foreign objects aren't enough to knock or physically move the vehicle, the motion sensors can be used to record anything that comes close.
Verdict
With so many features, this device could be considered an expert camera, yet it's clear ease of use makes it perfect for beginners as well. Everything about this device is designed to ensure a complete ease of access, whether its a quick way to turn on recording or a range of features to ensure the camera records in a way that suits your preferences. Even the more simple features, such as various mounts and supports, only ensure that this device is versatile and able to adapt to a variety of vehicles. Considering its low price tag, this is a dashcam that is worth every penny.
Videos Of The Day & Night Time Footage
Power Plus Unboxing
Showing Off The Time Lapse Feature For Parking 

Surveillance

!