Do I need a dash cam for my car?
Whilst it is not necessarily a legal requirement to install a dash cam in your car, the simple fact is that there are so many benefits for drivers and other road users that it makes more sense to have one than to not. Many drivers, especially those who have been driving for decades may not feel the need to install one, but the protection that these devices offer and the potential to save drivers a lot of money make it hard to disagree with the fact that really, all drivers should own one.




Why do I need a dash cam?
Let's take a look at some of the different purposes of having a dash cam in your car and how you can benefit from having one.
Prevent fraudsters from staging accidents
Worryingly, a lot of people are unaware that this even goes on these days. However, there are some fraudsters out there who will stage accidents simply to claim compensation. This is a scary fact, but it is true.
They will typically stage them at roundabouts or busy junctions. Not only does this pose a huge risk to other road users, but it also makes it possible that you will be caught up in one of these staged accidents and end up having to claim on your insurance.
This will increase your insurance premiums as well as lose you your no claims bonus. By simply installing a dash cam in your car, you could potentially stop one of these fraudsters and get them caught, thus protecting you and other road users at the same time.
Catch hit and run drivers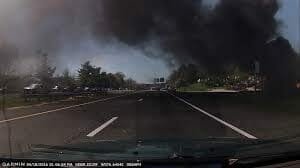 Unless you are fortunate enough to have a driveway or a garage, then you are probably, like many millions of other drivers, going to have to park your car on the road outside of your property. Whilst this shouldn't be a problem, it often is.




This is because it is far more likely that somebody will hit your car whilst it is parked overnight and assume that there have been no witnesses, so they will drive off to protect them from having to claim on their insurance policy. Unfortunately, if this does happen overnight, then it is unlikely that there will be any witnesses.
If you purchase a decent dash cam, then it will probably come with an overnight parking sensor. These sensors are designed to start recording the second they detect movement outside of your vehicle, so if any accidents were to occur, you would be able to catch the driver responsible.
Protect yourself if there is an accident that is not your fault
Whilst we would all like to assume that most drivers would be honest about an accident if they were at fault, this is sadly not the case. Some people will insist that an accident is your fault simply to avoid having to claim on their insurance policy.
Unless there are any witnesses who are prepared to say otherwise, you are going to have to claim on your insurance, meaning that you will lose your no claims bonus and your premiums will skyrocket.
By having a dash cam, you can avoid this from happening to you. You can use the video evidence from your dash cam to prove that the other driver was at fault, thus protecting your insurance policy.
So, where is the best place to mount your dash cam?
Once you have gone through the painstaking process of choosing the right dash cam for you, your next task is installing it in your car. This is usually a relatively straight forward process, but there are a couple of things that you need to consider and one of those is where the best place to mount it in your car is. Here are a couple of tips.
Make sure you are not obstructing your view
This is absolutely vital. When it comes to mounting your dash cam in your car, you need to absolutely make sure that you are not obstructing your view from the wind screen. Any obstructions of your view could prove to be very dangerous. The best way to avoid this from happening is to try placing it in several different areas of the windscreen and sit in the driver's seat with the engine off so that you can see whether or not it obstructs your view.
Make sure the view of the lens is not obstructed
Equally as important is that you make sure that the lens of your dash cam is not obstructed. It is important to remember that different dash cams will have different lenses. Some have wide lenses, for example. It is because of this that you need to make sure that the lens is able to capture everything that it needs to. Again, this is a bit of trial and error process and will take a couple of tries to get right.
Where you place the dash cam depends on several factors, including the type of mount that you have for it. For example, some dash cams are designed to be mounted onto a stand on the dash board. However, others are designed to be mounted via suction onto the windscreen. Take a look at the type of mount that comes with your dash cam before you decide where to place it.
As you can see, there are a lot of things to think about, when it comes to purchasing and installing a dash cam. Before you make a purchase, make sure that you have done some thorough research into the options that are on the market at the moment, and definitely take a look at some customer reviews to get a better idea of what you can expect from different models that are available. As long as you shop around and make sure that you know what you are looking for, then you should be able to get the perfect dash cam for you.