AUTO-VOX M6 FHD Dual Dash Cam Review – Features Worthy of a Much More Expensive Device
If you are on the lookout for a new rear view mirror dash cam but you have a budget that you need to stick to and you don't want to spend a fortune, then you may be thinking that your options are limited. However, these days this really isn't the case.
[aawp box="B072V3F5WC"]
There are actually some fantastic budget models on the market right now from lesser known brands that don't compromise on quality. We understand how much research has to go into choosing something as important as a dash cam, especially as it involves your safety. This is why we have aimed to make things easier for you by testing and reviewing as many dash cams as we can.
The model that we are going to be reviewing for you today is the AUTO-VOX M6 FHD Dash Cam. This isn't exactly a well-known brand, but they do have several devices on the market right now. Please carry on reading below to see what we made of this entry level model.
Features: 1080P Full HD Resolution Front Camera – 720P Resolution Rear Camera – 170 Degree Wide Angle Lens – 4.5" Touch Screen – Loop Recording – Motion Detection – LED Night Vision Lens
Pros:
Really easy installation thanks to the mounting straps.
Very responsive 4.5" touch screen.
Very nice sleek design.
Effective LED night vision lens.
Cons:
The resolution of the rear camera could be a little better as it is only 720P.
The AUTO-VOX M6 FHD Dash Cam Review
We have reviewed these types of dash cams before and always been really pleased with the design and this was also the case with the AUTO-VOX M6 FHD Dash Cam. The design of these types of dash cam is a little different to what you would usually see. With this type, you get a very thin device which we really like.
Although the camera is thin, it doesn't feel flimsy in any way whatsoever. It really feels like it has been built to last. What really impressed us with the design of this dash cam is how easy it actually is to install in your car. It has two straps attached to the camera which simply need to be placed over your rear view mirror.
A Fantastic Touch Screen That is Highly Responsive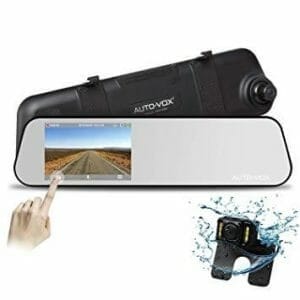 This is where you will position the camera. Another brilliant feature with this one is the 4.5" touch screen. We were a little worried about the responsiveness as some of these types of dash cams seem to struggle with that, but this wasn't the case, the touch screen of the AUTO-VOX M6 FHD Dash Cam is highly responsive.
The resolution of the front camera is excellent and we would expect nothing less considering it is 1080P full HD. However, we were a little disappointed with the resolution on offer from the rear camera. At only 720P, it does lack a little and struggles with the finer details which is a real shame given the quality of the rest of the features.
Impressive LED Night Vision Lens
One thing that did impress us, however, was the quality of the resolution during the dark. This camera has an LED night vision lens which is really very effective indeed. We didn't have any trouble reading number plates at all distances.
Overall, we were very satisfied with the AUTO-VOX M6 FHD Dash Cam. There are certainly a few improvements that could be made, but for the price that you can expect to pay for this one, you are definitely getting a good deal and a dash cam that is packed with features without the huge price tag.
[aawp box="B072V3F5WC"]