Product
Top Rated
Great Value
Largest Screen Size
Resolution
Full HD 1080p / 720p/480p
Lens
WDR 148 Degree Wide Angle
Memory Card
TF Card up to 32GB (Not included)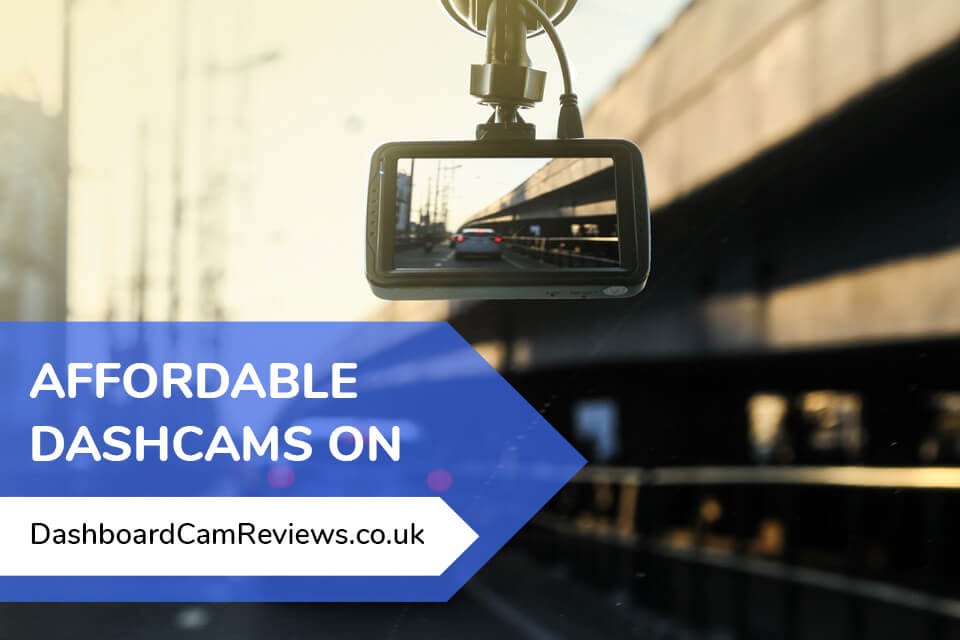 Affordable Dash Cams – Best Value In Car Cameras
With the risk of being hit on today's roads, especially now that "crash-for-cash" scams are on the increase, it is always a good idea to protect yourself from such scammers! Dash cams were quite pricey when they first came into the market and not everyone could afford them.
Times have moved on since then and they are now more affordable. This doesn't mean buying a "cheap" dashcam that may or may not work leaving you with reliability issues. Even good quality, well built dashcams have gotten to be very affordable.
Granted, going for a lower priced model may not give you the "bells and whistles" you would likely get with some of the more premium models such as motion detection or wifi compatibility, for example.
However, many of us simply want a dash cam that is there as a security device. You hope you would never need it, but if something was to happen; you would be glad you have one!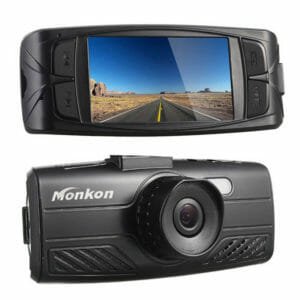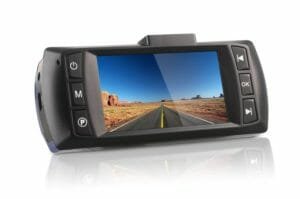 The dashcams featured here are some of the best, "entry level" models currently on the market. They all have very good customer reviews on Amazon, a decent specification and are perfect, with regards to value for money, if you are looking for your first basic dash cam.
The investment here is low compared to what you would save on insurance excess and an increase in premium should you be unfortunate enough to get hit and lose your no claims bonus. After the initial investment in the cam and an SD card (most come with one included!), it will literally be free. Its powered by your cars' battery and will record on a loop. You just have to remember to get into the habit of using it on every journey.
Want to save more money?
Check with your insurance company. More and more car insurers are starting to offer a discount on premiums on the basis of you using the dash cam on every journey! It will, quite literally, pay for itself in no time!
RoadPixel P102 Review
The top most affordable dash cam for this year has to be The RoadPixel P102 Vehicle Drive Recorder.
The RoadPixel P102 is the perfect device to safeguard you on the road. A great picture quality of 1920 x1080 pixels @ 30 frames per second makes this dashcam a very good buy for the affordable price!
While it doesn't have some of the advanced features like motion detection or night vision, it does have a G-Sensor which is an integral feature in any dash cam protecting your footage at the time of impact. If you are In market for a basic, entry-level dashcam that isnt cheap, then this is the cam for you. While being very affordable, The RoadPixel P102 has good picture quality and is a very well built cam.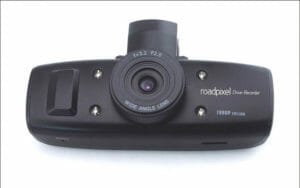 The RoadPixel P102 does also have a mic to capture all sounds incase of an incident and comes with a 4GB SD card so you are ready to start using it as soon as you receive it.
RoadPixel is a UK based company, situated in Welwyn Garden City. So technical or other queries will be answered very quickly.
Bottom Line.
The P102 by RoadPixel is a very good camera, the quality is great – making number plates clear and the image crisp. If you are looking for a good quality dash cam without all the bells and whistles, this is definitely the best option!

HYT-GS8000L Review
From HYT comes the GS8000L, another well-built, entry-level dashcam. While the price point says it is entry level, the quality output you can expect from the GS8000L is very good.
For a budget dash cam, you do actually get some good features. Firstly the recording is at 1920 x 1080 pixels at 24fps so it is still a very high quality 1080p video. It has a 140 degree wide angle lens to capture as much as possible and has a G-Sensor to lock the footage in the event of an incident.
The 2.7″ LCD screen is perfectly adequate for viewing what is currently recording and the image quality of the screen is actually pretty good itself. Clear enough for you to navigate the menu system which is very easy to follow and to video real-time recording!
The GS8000L also comes fully equipped with IR night vision! This is crucial for clarity in video quality when driving at night time, especially on dimly lit roads.
The suction cup for the GS8000L is also very good when compared to its peers. The camera will stay on the windscreen, whether you drive over a pot-hole or a speed bump!
Bottom Line.
For an entry level dash cam, the features offered in the GS8000L are great. Much like the RoadPixel P102, it is a great no-frills dash cam, however, unlike the P102, the GS8000L does have IR night vision. In my opinion, the video quality of the recording during the night time on the P102 is perfectly fine.
Slightly more features than the P102, the GS8000L is again a very good deal.

KiwiBird Review
One of the more colourful dashcams around, its easy on the eye but don't let its beauty throw you off, it is a very good device as well. With 1920 x 1080 high definition video resolution on a 2.7″ screen, the video quality of the KiwiBird is as good as it gets. Keeping your video files compressed using a H.264 MOV format, you can now store more on your 16 GB TF card (which comes with the Amazon purchase of this dash cam.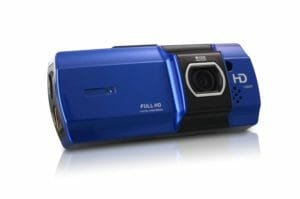 The KiwiBird has a wide angle lens of 148 degrees – which is wider than the typical industry standard of 140 degrees. Allowing you to capture more of your windscreen view, giving you that much more protection on the road.
It has an in-built HD screen for instant feedback when on the road and an easy to navigate menu system.
The KiwiBird also comes equipped with a 24 hour parking mode – car security surveillance, if you were to leave your car at an area known for crime. G-Sensor, to lock and protect any recording surrounding an incident. Night Vision for clear night time viewing and playback, this will prevent the glaring lights off the number plates should you need to use other driver's number plates in evidence in court. The KiwiBird is the only dashcam I am aware of that comes with an 18 month warranty.
Bottom Line.
This is a very good dashcam, it is also aesthetically pleasing and very easy to use. With a few additional features than your complete basic dashcam; the KiwiBird is another good buy!

Monkon M04L Review.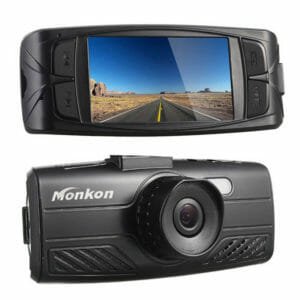 From manufacturer, Monkon, comes the M04L dash cam. A stylish little unit but at the same time as being very functional.
Another dashcam with a wide angle 148 degree lens to capture that little extra whilst driving (or even while parked up!). The M04L will give you a very high resolution image at 1080p at a very smooth 30 frames per second. H.264 compression providing for small video files but keeping the quality high.
Another nifty little feature of the M04L is called the Car Plate Stamp. You enter your car registration number into the unit and it will stamp it on the video as it is your car that did the recording.
The M04L's WDR technology controls the brightness in exposure of the video, making footage brighter or turning down the brightness in order to get the best possible resolution.
The 2.7″ screen is a good size and the navigation on the menu system on the camera is more than adequate to find your way around. It has LED night vision allowing you to recording clear video on darker roads and with only headlights – again showing the number plates quite clearly! This is a must as this is where a lot of accidents can occur!
The loop recording will keep the camera recording without any interaction from you, always overwriting the oldest data. The G-Sensor comes into play in the event of an incident and locks to protect that data in place.
We have two options here. One with a memory card and one without.
Bottom Line.
This is another good buy, it has all the basic features and a few extra ones such as the ID stamp and the LED night vision. Instructions could be clearer as they have clearly been translated into English. But for someone with some experience in anything tech should have no issues.
All in all, a decent buy.

UKayed Car-Cam 2.0 Review
Car-Cam 2.0 from UKayed boasts great features at an affordable price tag!
1080p full HD recording, you will get a very high quality video captured from its 180 degree wide angle lens. It comes with an 8GB Micro SD card which is perfectly fine to allow for loop recording. It has a G-Sensor incase of an incident so it protects your footage as well as an auto-ignition start – so it starts when you start your car so the camera doesn't miss a thing on your journey.
The Car-Cam 2.0 also has infra red night vision to capture footage on darker roads and lower light conditions as well as a photo mode. With the photo mode you can use the device as a digital camera! This means if you were to be involved in an accident, you can take the dash cam out of the holder outside and take pictures of the damage on your car, the other drivers' car as well as anything else you may wish to document. This feature is very powerful and can further strengthen your case against any claims made wrongfully against you.

Bottom Line.
Another very good dashcam for an affordable price tag. It has all of the required features and a few extra bonuses. The photo mode is a particularly good one to have. A good quality camera definitely worth a look!
2015 brings many new dash cam models to the market.
Along with your standard features you would expect to find on most models such as loop recording to make sure you don't miss anything on your journey, G-Sensor to lock any footage your cam has recorded at the time of incident from being overwritten on the loop recording. With the latest dash cams for 2015 (some even implement these in 2014); you will find new features like wifi connectivity so you stream / transfer video files to and from your smart phone.
Top 5 New Best Dash Cams Of 2018
[insert_php] echo do_shortcode('[product_list cat="Best 2015″]' );
[/insert_php]
What Aspects Of A Dashcam Makes It Good Value?
When looking to invest in a dash cam, you want to get the best you can for the money you spend. There are features that are must-have, features which are nice-to-have, and features which you simply do not not need. In this article I list all of these and then go on to showcase the top 5 best value dash cams for 2015.
Must Have Features.
Good Day Time & Night Time Video Quality.
This is by far the most important par of any cam. If the quality of video is bad – then that pretty much defeats the purpose of having a cam in the first place. In my honest opinion, 720p quality is perfectly adequate for the purpose it serves. Most dash cams are at a 1080p resolution, better than what is required.
While the day time video quality may be great, if you do drive at night time; you will want the night quality to be good as well. Some dash cams have a far superior night time video recording quality than others. Good night time video quality will show cars and license plates clearly without any glare from head lights, traffic lights or street lights.
The Loop Recording.
The second most important feature and, in all honesty, most dash cams today will have it. The loop recording will fill up your memory card with video footage data until its filled up. Once the camera has recorded to the end, it will start over and write over the oldest data first. This is great because it requires no interaction from you as a user to format the memory card everytime its filled up. The only time it does not overwrite the data is when the G-Sensor is activated.
The G-Sensor.
The third must-have feature is the G-Sensor is a feature within your dashcam that measures the movement and g-force in your vehicle using 3 axis; horizontal, vertical and forwards/backwards. Sudden change in the movement of your vehicle can trigger the G-Sensor. If your vehicle was involved in an impact, the G-Sensor would be activated and it would lock and protect the footage captured surrounding the impact. This, in turn, keeps the locked footage safe from the loop recording overwriting it.
Changes in the road surface have been known to trigger the G-Sensor. This can be a real pain as you then have to unlock the footage to delete or or just delete it depending on the device type. The G-Sensor sensitivity can be altered so as to avoid potholes and speed bumps triggering it.
This feature is possibly the reason you have bought a dash cam in the first place. It is an integral feature in any dash cam. Luckily, most dash cams (even the basic models) have this feature as standard.
The Nice To Have Features.
Date & Time Stamp.
This feature is a good feature to have, but I wouldn't call it a deal breaker if a dashcam I was considering didn't have it. The date and time stamp does exactly what it says, it marks your video footage with the date and time. If you were to have an accident, and the date and time was brought into question; it would be good to have this feature to save on time in disputing.
Vehicle ID.
This feature is another one which is nice to have, but not necessarily needed. It stamps your video footage with any data you like, your ID, driving license number, or your car registration. This would prove in court you are who you say you are – not that I see much requirement for that.
Photo Mode.
This is another good feature. If you were in an accident, you could un-mount the dash cam and take it outside with you to photograph the damage on your car, the other persons car or anything else you would think can be used as evidence. A nice little feature, but is it essential? No.
Features You Don't Need.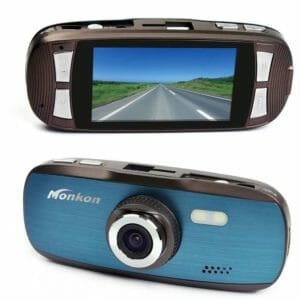 Parking Mode.
Many dash cams come with a parking mode, which acts as a CCTV surveillance camera in your car while parked. If someone was to try and break into your car – the camera would capture it. My opinion on it is, if someone did break into your car – they would take the dash cam too! The other flaw is, seeing the dash cam in the car would invite (otherwise unwanted) thieves to break in.
Wifi.
Some dashcams have wifi connectivity to either stream video footage directly to a smart phone or for easy, wireless data transfer to a smart phone. My take on it is, if you are driving – why would you (or even arguably a passenger) need to watch the footage being recorded on a smart phone? With regards to data transfers, for the amount you would ever do it, it would be as easy to plug it into your PC and do it that way.
GPS.
I was in two minds about putting this one here or the Nice To Have and decided here is best. It is a good feature as it captures the GPS location to where you are at a time of incident. Nine times out of ten, the location will not be the cause of dispute. Surrounding landmarks in the footage can be used to determine the location. The GPS feature adds bulk to the cam and I don't see it being necessary at all.
Here Are Some Of The Best New Dash Cam Arrivals Of 2015.
Monkon M900
A well known make in the industry, the M900 by Monkon is a new dash cam which is one of the best newcomers of 2015! Built using the Novatek 96650 processor chip with a six piece, all-glass prime lens, the M900 has an advanced video capturing technology, giving your videos a very high quality playback.
For a small device, the M900's extra wide 170 degree viewing angle is more than adequate to capture the entire windscreen and gives you a piece of mind that are covered on the road at all times.
Video quality at 1080p, 30 frames per second and a 2.3″ screen for instant feedback.
It also features a loop recording feature which relieves you of formatting the memory card everytime its full and a G-Sensor to lock the footage at the time of impact to further safeguard.
The WDR feature balances the light in the shot to get the perfect light balance, so your footage will not end up too light or too dark.
The night vision ensures perfect quality at night time as this is when a lot of accidents occur due to a lesser visibility than the day time.
Car plate stamp (or otherwise referred to as ID stamp) so the footage you record will actually display your license plate to prove it was your car involved in the incident.
Some of the other features include anti shaking, speaker and microphone.
Bottom Line.
With the ID stamp, a great video quality and the 170 extra wide angle lens, as well as the affordable price tag makes the M900 a great buy!

Monkon G1W
Another Monkon dashcam, this time the well known and popular, the G1W. So far the cheapest it has ever been in the UK, available on Amazon!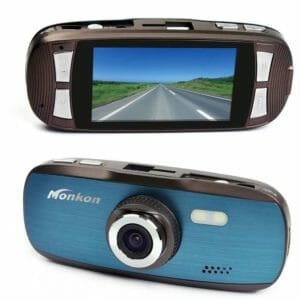 Like the M900, the G1W also has the 96650 chip from Novatek. Capable of recording 1920 x 1080 pixel resolution, again at 30 frames per second. The pircture quality on the G1W is another which is superb. The G1W uses the latest H.264 video compression technology to get the most of your memory card. This will keep the video quality high while reducing the file size. A great feature for the longer journeys which you may want to keep (instead of letting the loop recording overwrite it).
The loop recording feature overwrites the oldest data, and the G-Sensor will lock your dash cam from overwriting any data surrounding
g an impact.
4 x digital zoom function enables you to focus on distant views and the IR night vision to keep the video recording clear and crisp during low light conditions.
The G1W does have a larger screen than the M900 at 2.7″, and a HDMI output for file transferring and an automatic on/off feature so it turns on and starts recording when your car is turned on and off when you switch your car off.
Bottom Line.
This is another very good cam for the money. With all the features you would expect, it is decent cam for the price. I would spend a few extra £, however, and opt for the M900 for the few extra features!

Generic S550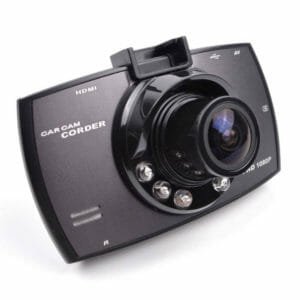 Another new comer with looks promising for 2015, the S550 boasts all the features of a premium dashcam but keeps the price point down!
A 2.7″ large screen and a 1920 x 1080 pixel resolution recording at 24 frames per second, the S550 will not fall short in the quality of video. Another one with an extra wide angle lens at 170 degrees, this will cover your windscreen and guard you against any threats that may not even be in your line of sight.
The night vision on the S550 is also very good and keeps the recording clear and the glares from the lights on the road at a minimum.
The G-Sensor to protect your video files in the unfortunate event of an impact. Loop recording to keep itself recording without any interaction from you.
Parking mode along with motion detection, so if the camera was left on in the car dash operating as a CCTV camera for the car; it will be off until someone walks past and motion detector picks them up and it will start recording.
Automatic on/off function, so it turns on with the car and off with the car.
Bottom Line.
For the price of it, the S550 is a good buy. The night vision and parking mode feature do give it some further unique selling points as does the wide angle lens. with the S550, you do get plenty for your money!

Cesco GS9000
Packed full of features and coming in at a competitive price, the GS9000 is another very good buy in terms of dash cams in 2015.
With the widest angle video of all of the dash cams featured in this post, the GS9000 has a viewing angle of a great 178 degrees! The screen is large enough at 2.7″ and it has a max video resolution of 1920 x 1080p at 30 frames per second. The GS9000 also supports GPS logger which is great for the price you pay for it, this can be a useful feature to prove the location of any incidents that may occur! For the price you pay, you will be challenged to find a dash cam for this price with a GPS logger included.
Along with great recording at night time with its IR night vision, it also has a white balance mode to lighten darker videos and darken super bright videos to give you the perfect resolution.
The GS9000's loop recording feature can be set to 2 minute, 5 minute, or 10 minute intervals to keep the segments saved individually and will be seamless when you come to viewing, however you can split them up into individual files.
It also has a parking mode with motion detection along with a built-in microphone.
Bottom Line.
A great dashcam, with a low price and a few premium features like the GPS logger! The GS9000 has great video quality resolution 1080p at 30 FPS on an ultra wide angle lens of 178 degrees. A great buy and a very good addition to 2015's dashcams!

Cobra CDR 900
Here comes the big bad dashcam of 2015 so far! The Cobra CDR 900 is one of the best car dash cameras so far!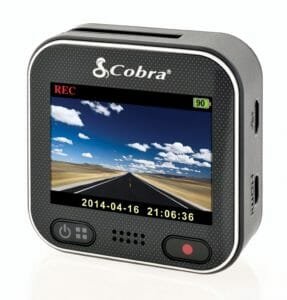 With super HD quality video recording at 1296p or you can have it lowered to a 1080p, the CDR 900 features the best quality video of this post! For a small dashcam this one really does pack a big punch!
The CDR 900 has built-in wifi for ease of transferring files as well as viewing videos using the Android or the iOS Drive HD app.
The processor being the AmbarellaTM A7LA Chipset giving you the best picture quality amongst its peers as well as a 160 degree wide angle lens to cover a large part of the windscreen without any edge distortion – this dash cam will capture what you see in your direct vision as well as what you may not see right away in your peripheral vision!
The CDR 900 comes with a heavy duty suction cup which will not come off whilst you drive in even the roughest roads as well as a tripod connection.
Bottom Line.
This is a premium dashcam and comes with the price tag to prove it. It does, however, have the features and the video quality to justify the extra cost. If you are looking for the best and the newest – this is it!
Here is a video showing the daytime quality and the night time. You can see here how clear this dash cam record. If you are someone who takes pride in everything you do and want a dash cam with the best possible quality and the latest model on the market; then this is definitely the dash cam for you!