Nextbase Dash Cam Duo – A Very Clever Dash Cam
With Nextbase being a market leader in dash cam technology, we always anticipate good things from their devices. They produce a versatile range of dash cams that cater to every budget and every driver, whether you drive daily or only occasionally.
When it comes to their high-end devices, there are numerous to choose from. The one that we have chosen to test and review today is their dash cam duo. Although there is an expensive price tag attached, we were intrigued to see if it delivered.
[aawp box="B075WM24GV"]
Take a look at our review below to see if this sophisticated piece of kit has what you require for your dash cam needs.
Features:
1080P Full HD Front & Rear Recording
2 Rotating Lenses
140 Degree Wide Angle Lens
7" LCD Screen
GPS
Click & Go Magnetic Mounting
Nextbase Cam Viewer App
Pros:
Dual lenses so both the front and the rear is covered.
Very nice sleek design.
Wide range of extra features.
Both the front and the rear cameras offer 1080P full HD recording so nothing is missed.
Cons:
It is an expensive piece of kit.
With its wide range of features it can be quite complex to figure out if you haven't used a dash cam before.
The Design
For us, one of the best things about this particular dash cam from Nextbase is the design. It is sleek, slim, modern and looks fantastic. Just by appearances alone it is clear that the Nextbase duo cam is a sophisticated piece of kit. The casing of the dash cam itself comes in a brushed black stainless steel and feels like it really has been built to last.
At the front of the dash cam you will see the two lenses which fully rotate to capture both the front and the rear. One of the things that we really like about the overall design of the Nextbase Duo is how discreet it is. It doesn't obstruct the view from the windscreen in the slightest and feels very comfortable to hold in the hand to operate.
The user interface is really simple to use if you have a little knowledge of dash cams but if you haven't used one before then you might find the sheer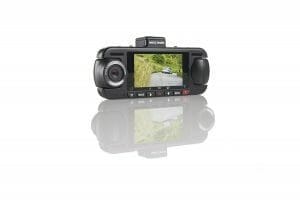 amount of features and options a little overwhelming. As sophisticated as this dash cam may be, it is safe to say that it is also quite complex.
Installing the camera is a little fiddly as it can take a while to get the angles just right so that both the front and the rear can be seen clearly. However, it is made easier by the Click & Go magnetic mount. Although the lenses are able to be rotated, it is simpler to have one facing forward and the other facing backwards.
The Recording Quality
One of the things that we really like about this twin dash cam from Nextbase is the fact that both the front and the rear camera offer 1080P full HD recording. More often than not, you will get a dual dash cam that has the front camera offering 1080P but the rear will offer recording at a lower quality which can cause some problems.
One of the issues that you might face is finding the right angle to provide the best recording quality. We found that if the camera was mounted at an angle that was too high then the exposure would appear darker than usual which compromised the accuracy of the video quality.
One thing that we did find is that by altering the exposure and getting the angle just right, the perfect amount of light was captured resulting in a crystal clear image. It definitely takes some trial and error, but once you get everything set right the image quality is fantastic.
The Extra Features
The Nextbase Duo Dash Cam is packed with extra features to take advantage of. The first feature that we'd like to talk about is the GPS feature. If you are involved in an accident, the GPS feature will automatically pinpoint exactly where you are on a map, as well as note the speed at which you were traveling. This kind of information could prove vital to an insurance provider when it comes to proving your innocence.
Next, there is the WiFi feature. With the built in WiFi, you are able to share your dash cam footage directly to your smartphone or tablet PC, allowing you to free up essential memory on the dash cam. This is especially beneficial in combination with the Nextbase Replay 3 software which enables you to share your footage to social media.
Mounting your Nextbase dash cam could not be easier with the magnetic Click & Go mount from Nextbase. This enables you to easily use the dash cam whilst you are on the move and also makes the initial configuration and set up very easy indeed. Finally, there is the enhanced night vision which generates a clear image in darker environments which is essential for capturing night time accidents.
The Conclusion
If you are willing to spend a little extra on your dash cam, then the Nextbase Duo HD is certainly a worthwhile investment. You really do get what you pay for. There are so many extra features that you simply don't get with most devices and they can make all the difference. The Duo HD has been designed to last and is incredibly user friendly. The 1080P full HD twin lenses alone make this dash cam worth the money and the fact that they are able to rotate is a huge bonus. If you can spend a little extra, then this is definitely a great option to keep in mind.
[aawp box="B075WM24GV"]