Aukey Front & Rear Dash Cam – Does It Live up To the Brand's Reputation?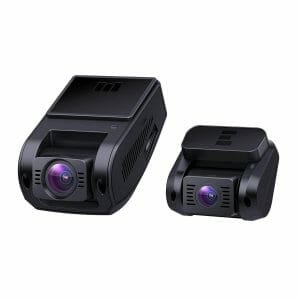 Aukey have been around for a number of years now and have a reputation for building high quality, durable consumer electronics. Along with their extensive range of audio and video equipment is their line of dash cams, including this front and rear model.
If you are looking for a dash cam for your car, then it is understandable that you would want to consider all of your options so that you can make an informed decision. This is why we have chosen to review this front and rear dash cam from Aukey. Hopefully, by the time you have read our review you will have a much better idea of what to expect from this model.
Features:
1080P Full HD Recording
30 Frames Per Second
170 Degree Front Camera
152 Degree Rear Camera
Full 6 Lane View
Loop Recording
Emergency Recording
Extreme Temperature Operation
Parking Mode
Pros:
Good cable length to connect the front and rear cameras.
Good wide view from the front camera.
Plenty of extra features.
Cons:
Rear camera is not as discreet.

The Design
The overall design of the Aukey Front and Rear Dash cam is impressive. It feels durable and well-built; you can tell that high quality has been an important design feature.
One of the things that we really liked about this dash cam is that the cable
that connects the front and rear camera is a good length. It isn't too long so that it looks messy but not too short so that there is difficulty connecting the two cameras. This is a definite plus point.
The front camera has been designed specifically to look very discreet. It fits neatly behind the rear view mirror which doesn't obstruct your view, but also doesn't make it obvious that you have a dash cam installed. The only thing that we did notice is that the rear camera isn't so discreet. However, this can be rectified with a few adjustments of the positioning of the device.
The Recording Quality
We have to say that we were really impressed with the recording quality that the Aukey Front and Rear Dash Cam has to offer. The picture quality is fantastic and offers a great amount of clarity, even at night. The rear camera doesn't seem to pick up images as well and struggles to get good footage on dark lanes which did pose a few problems.
However, the front camera didn't struggle to capture clear footage at all on dark lanes or even areas where there was very little street lighting. Both the front and the rear camera capture number plates clearly and we had no trouble reading them when we played back our footage.
There were no grainy images at all which you often find with dual dash cams, so this was another bonus. One thing that we really like about this dash cam is that it has a full 6 lane view. This means that you will not miss anything during recording which is essential if you have an accident. Overall, we were really pleased.

The Extra Features
There are a couple of extra features with the Aukey Front and Rear Dash Cam that are worth noting. First of all, there is the extreme temperature operation. With some dash cams, you will find that their performance is compromised if conditions are too hot or too cold. The trouble is that you can't risk the dash cam not working because of the weather.
The extreme temperature operation stops the temperature from affecting the use of your dash cam, making it far more reliable when capturing important footage. Another thing that we like is that the G sensors that are built into this dash cam are actually made by Sony; one of the most reliable and reputable brands in the world.
We found that the sensors work really well; they are sensitive enough to activate the automatic recording and emergency locking, but not too sensitive so that they activate these features at the wrong times. These extra features on offer from the Aukey Front and Rear Dash Cam really put it up there with some of the best.
The Conclusion
Although this dash cam is a little more on the expensive side, it is important to remember that you are essentially paying for the extra features that it has to offer. Considering the only real drawback is that the rear camera could do with a few design improvements, we really feel that this is a dash cam to contend with.
It is designed well, very easy to use and has plenty of extra functions to take advantage of. Those who value the importance of a crystal clear image from a dash cam will definitely be impressed by this model.