Update: If you're looking to have your dashcam installed by a professional installer who

aren't Halfords

, follow this link to find a professional dashcam installer near you.
Halfords Dash Cam Fitting – Is It Worth It?
Dash cams
have seen a huge rise in popularity over recent years. Fortunately, they have become far more advanced technologically in this time, meaning that there are far more features to take advantage of.
A dash cam could potentially save you thousands of pounds in insurance claims
if you have an accident that was not your fault. When it comes to installing a dash cam in your car, there are two options. You can either do it yourself if you feel confident enough to do so, or if you don't, you can use a professional fitting service to install the dash cam in your car and
hardwire
it. Hardwiring your dash cam actually has a few benefits over using the 12V charging port to power it. Here are a few examples of how you can benefit from having your dash cam hardwired:
The Benefits of Hardwiring a Dash Cam:
Better Aesthetically – One of the problems that many people find when they use the 12V charging port to power their dash cam is that it can sometimes look quite untidy. There may be wires trailing in your car which is not only potentially dangerous, but doesn't look good at all. By having your dash cam hardwired, you are able to make it look much better as you won't be able to see any of the components.
Leaves 12V Socket Free – We use technology everywhere we go these days, especially our mobile phones. Of course, in order to be able to use your mobile on the go, the chances are that you are going to need to be able to charge it. A lot of people will use the 12V socket in their car to do so. If you are using this socket to power your dash cam then you won't be able to charge your phone. By hardwiring the dash cam, you free up the socket for your phone or any other devices that you want to charge.
Offers Constant Protection – One of the issues that you might encounter with a dash cam is that it will only record at certain times, making it unreliable. By having your dash cam hardwired, you are offered constant protection as it will power on every time you turn the ignition on.
When it comes to having your dash cam installed by a professional, there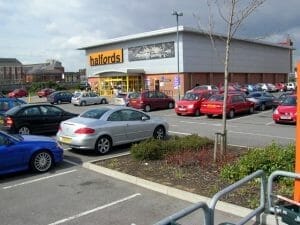 are a range of options. You might want to use a local mechanic to do the job for you, for example. The problem with this is that it's likely to be expensive… One of the most popular places to use at the moment is Halfords. However, there have been quite a lot of negative comments made about their service.
Halfords Dash Cam Fitting Service – An In Depth Look
Every Halfords store up and down the country has a team of professional fitters who take care of things like hardwiring dash cams. This will cost around £30, and take about 30 minutes. We looked into the process thoroughly, and were quite shocked to see the sheer amount of negative feedback that the company has gotten over their supposed professional fitters hardwiring dash cams.
Messy Work
After examining lots of feedback online, one thing that came up a lot was criticism of the tidiness of the work carried out by these professionals. Many customers have stated that bits of the car were not put back correctly, or wires have been left dangling in the foot well. For a supposed professional service, this is really worrying. One customer commented that the wires had been fitted outside of the car, rather than inside. These are basic things that every mechanic should know not to do, so it was quite surprising to learn that incidents like these have happened.
Unprofessional Service
Another comment that has cropped up an awful lot is that some of the fitters come across as very unprofessional. A service like those offered at
Halfords
should be incredibly professional. The fitters should know exactly what they're doing and be happy to answer any questions that the customer might have about the process. Worryingly, many people have said that their fitter has come across as rude, unprofessional and like they don't have a clue what they're doing. If this is something that we'd experienced, there is no way the fitter would be trusted to hard wire anything at all.
Extra Costs Incurred
Finally, there have been a lot of people saying that they incurred extra costs for certain brands of dash cam or dual cams. The Halfords site is quite vague in terms of the costs that you will incur for having a dash cam hardwired. The best way to avoid this is to talk to a member of staff directly before the hardwiring begins so that you can make sure you know exactly how much you are going to be paying. Overall, it would seem that the hardwiring service from Halfords is best avoided. You can either do the job yourself with the help of online tutorials you may have already come across thanks to their high viewership on the YouTube provided
by The Marketing Heaven
, or you can get a qualified local professional to take care of it for you. If you are going to go for the latter option then definitely make sure you do your research into the company or individual to make sure that you don't run into the same problems.